Application
ROBOTIC PICK & PLACE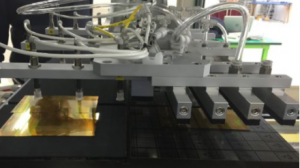 VMECA's innovative and newest solution product: Mini-Gripper is able to be used in a variety of semiconductor handling application. In particular, in the semiconductor industry is often required transferring multiple products with a single tool – and VMECA Mini Gripper can be more effective models. In addition, many different VMECA vacuum products are used in electronics.
Various Product Pickup using a Single Tooling System.
With different products, sometimes they require different tools. The Mini V-Grip systems are able to pick up a wide range of products with a single tool. This is due to each vacuum port being equipped with check valves to minimize vacuum leakage. The soft foam on the Mini V-Grip system is able to pick up the workpieces with an uneven surface.
Minimal Chance of Damage.
The soft sealing foam is coated with anti-magnetic material. This allows the soft sealing foam to minimize the chance of damages that can occur during the transport process.
Required a solution from static electricity that may occur when handling products. Mitigate Damages from Static Buildup.
Due to the characteristics of some of the electronic components produced, they are vulnerable to damages from contact and also static electricity. The V-Grip system's soft sealing foam will eliminate any chance of damaging the components during pickup. Also, the soft sealing foam is anti-static, and prevent any damages on the components.
Maintenance costs must be saved with a simple structure. Maximize Productivity.
When using a motor-operated pump or a single-load vacuum pump, it generates a higher energy consumption than the vacuum efficiency that can be created. However, with the international patented VMECA's innovative vacuum cartridge technology, not only does it produce a large intake air flow rate with low air consumption, but it also delivers a stable supply air pressure.
You can also equip the Mini V-Grip systems with Suction Cups instead of the soft sealing foam.
VMECA Vacuum in application
| | | |
| --- | --- | --- |
| Product 1 | VB-cup | VB8-WS |
| Product 2 | Keyboard pump | VKM62 |
| Product 3 | Mini V-grip system | G20 Series |